This video and download package presents key training ideas presented at the Vision Rehabilitation Roadshow 2020 in Calgary, Alberta. Other training and rehabilitation ideas are covered elsewhere in the lecture/lab portions of 'the Roadshow' available as other courses here.
This is live coverage of important training examples and rationale - we want you to know why as much as you should know how. The principles presented in the lectures and labs are turned into inexpensive and effective therapeutic play using materials that literally cost less than a latte. This program includes downloadables and links to additional content.
All science, and no filler, you'll want to pause and rewind often to catch all the details. You WILL change how you approach your life and work after you watch this. Immediately begin working with your pediatric and rehab clients of all ages to build the most important visual skills: vergence, accommodation, and saccadic skills (targeting). Plus a whole lot more.
The program is delivered by Dr. Charles Boulet (Dr. B) and Robert Constantine, OT. Dr. Boulet is an author, teacher, and clinical practitioner in developmental optometry. (drboulet.com, visionmechanic.net, FB: Vision Rehabilitation). Mr. Constantine is the 'VisionRehabOT' (VisionRehabOT.com / FB VisionRehabOT) and has spent years perfecting his skills in vision rehabilitation for children who struggle and now more recently with adults following brain injury.
This hands on practical course is 'advanced enough' to be worth your while, but not way over your head. This was recorded in front of a group of real Occupational Therapists who work with children with developmental needs as well as patients with brain injury. The program covers a lot of ground and has a load of activities to go along with it.
The program is real science but presented in a conversational manner and is ideally suited to parents interested in their children's development, teachers, family doctors and pediatricians, psychologists, Occupational and Physical - and anyone else who 'should' know
****
We strongly recommend you consider the Complete Two-Day Program that includes all lectures, labs, and downloadables as well as additional content. Strap in and get ready to 'hack' your life and clinical practice in a powerful and unique way. You're in for a busy, interesting, and ultimately very useful journey. When done, you will have learned more than you ever thought possible about vision, how it works, and how (and why) we might fix it. You will be fired up and ready to learn more, and we'll give you a library of great activities to work on to improve your own vision, or the vision of those in your care.
Whether you're a teacher, a therapist, parent, or family doctor, you will find many insightful and helpful bits of knowledge and wisdom around our most important sense - vision.
And we'll even give you a certificate to prove you've taken this course (appropriate for Continuing Education purposes).
This full course includes all components of Day 1 AM and PM, Day 2 AM and PM from the Vision Rehabilitation Roadshow 2020, as well as additional content and program handouts as pdf files. We will be actively updating and building this community, so welcome aboard.
From the Vision Rehab Roadshow: "Thanks so much for the course this past weekend. I am looking at all my kids differently now!" - Pediatric OT
"Good morning, Dr. Boulet, I was one of the attendees at last weekend's course. I want to thank you again for EXTREMELY relevant content that I absolutely benefited from." - Neuro-rehab OT
Course Curriculum
Available in days

days after you enroll

Simple Activities for Developing Vision Skills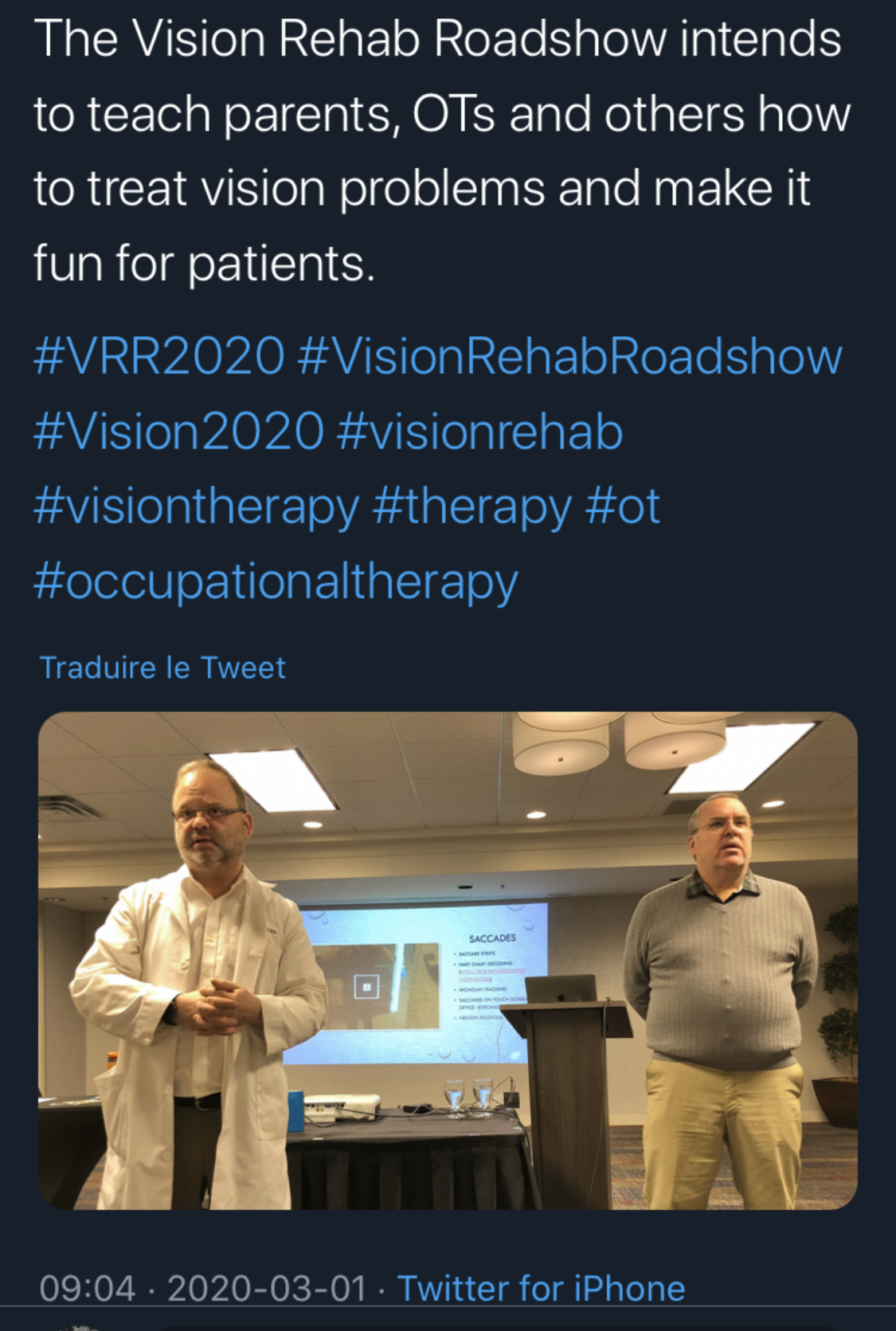 Hi, I'm Dr. Charles Boulet (left) ...
...and I was thrilled to be able to put together this unique event on human vision with this amazing therapist, Robert Constantine (the VisionRehabOT). Robert and I both have a great passion and (between the two of us) a wealth of great practical information on treating problems with our most important sense, VISION. Now, 'how do you train vision', you ask. Well, you start with basic science, some biology, physics, medicine, optics, physiology... and other things - and you make it easy to understand. That's what we've done here for a group of wonderful pediatric and neuro-rehabilitation Occupational Therapists, but we know you'll feel right at home - doesn't matter your background. Robert and I have been changing people's lives through vision training and rehabilitation for over 10 years each - let us show you our favourite bits of wisdom!